Eco-Friendly, Non-Toxic Cleaning Products
Certified Gold Level: Steamboat Sustainable Business Consortium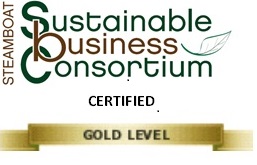 At Ski Town Cleaners, we are committed to running our business as environmentally responsible as possible. This means that we are always looking for new ways to reduce our impact on the environment: we use non-toxic cleaning products and processes; use high efficiency washers; replace less efficient with higher efficiency appliances as much as possible; implement policies on saving energy and water; collect and reuse hangers; offer reusable cloth garment bags to customers for free to reduce the use of disposable plastic and paper covers; and both of our store locations recycle as much as possible in co-mingled recycling containers for employees and customers.
Ski Town Cleaners has proudly certified at GOLD level for environmentally sustainable business practices from the Steamboat Sustainable Business Consortium. Ski Town Cleaners was awarded Recycler of the Year in 2014 from the Steamboat Springs Sustainability Council.

GreenEarth® Dry Cleaning
We use GreenEarth® cleaning products which contain no petrochemicals and are non-toxic.  GreenEarth® cleans with pure liquid silicone which, in essence, is liquified sand.  This silicone is clear, odorless and gentle on your clothes.  GreenEarth® is so safe that neither the EPA, OSHA, RCRA or CERCLA have to regulate it.  You see, when you don't use petroleum-based solvents like other dry cleaners do there is no reason for any environmental inspection.
Silicone is made from sand, or silica, which is one of the oldest and most abundant substances you'll find on earth.   This solution won't rub or swell fabric fibers like petrochemical solvents do either.  GreenEarth® is the most effective solution we could find for getting your items remarkably clean while being protective of the environment too.
Using GreenEarth® to clean and stain-remove is like throwing your clothes into a mineral bath.  Our GreenEarth® cleaning process doesn't leech dyes into your garments and won't damage the fibers.  Simply put your clothes will look newer, last longer, feel softer and stay true to size.  All without harming our environment which is what living in Steamboat Springs is all about in the first place.
Watch the video to learn more about the GreenEarth® cleaning process Green Earth Movie